If you're a fan of murder mystery parties and you haven't played one of these Mystery Party Games yet, then you are missing out!
They are fun, imaginative, and will have your guests talking about the evening for along time! Unlike conventional Boxed mystery games, which often can be too involved, confusing and you need a pad and pencil just to solve them. These games are lighter, lots of fun and incredibly addictive!


Whether you are the authentic Molly Brown from the Titanic, Jane Austen's heroin Elizabeth Bennet, the Hatter from Alice in Wonderland or a human at a table full of Vampires, you will have a blast! These games put you right into the period and are easy to prepare and play! And best of all you can download one today!
Each Game comes with easy to print invitations, booklets, clues and instructions on how to create a sensational experience for your friends.
The graphics are gorgeous and the end results are professional and impressive. All you need is a printer. The games also include authentic period inspired wine labels, full dinner party recipes, and plenty of DIY videos from this supplemental website!

Game for 8 players (up to 4 extras can be added)

Game for 10 players (up to 4 extras can be added)
Game for 10 players

Game for 10 players

(Coming 2014) Game for 10 players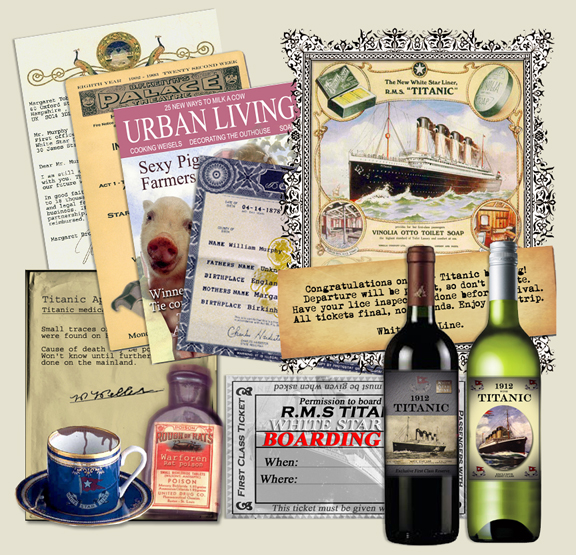 TITANIC IS THE PERFECT GAME FOR NEW YEARS EVE!
The Titanic Murder Mystery game includes easy to print invitations, game booklets and clues, party invitations (also email versions), instructions, solution, vintage style wine labels, 10 first class recipes, menus and Titanic boarding passes. First class meal not necessary to play the game.