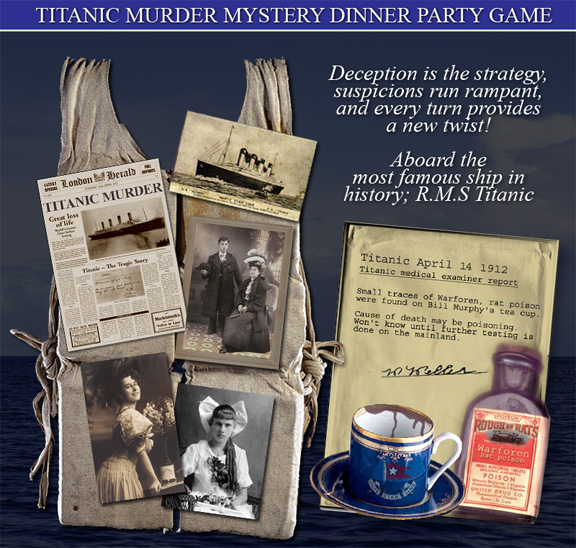 You are one of eight dinner guests (four men, four women) in this roll playing dinner party game aboard the famous RMS Titanic on the night of April 14, 1912. An invitation has been extended to you to join the captain at his table for dinner. The invitation is not without reason, you are one of eight suspects in the brutal murder of his first Officer. Can you solve the crime before the ship meets its inevitable end…and possibly change the course of history?
Game for 8 players 4 men, 4 women
Fun for Teenagers ages 16 + and adults
4 EXTRA profiles/players (non suspects) come with the game for a larger party.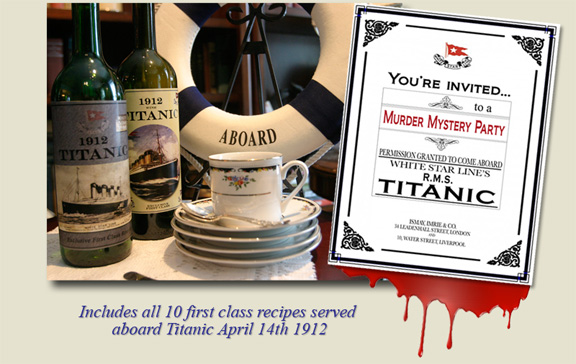 Eight Titanic passengers are under suspicion including Edward John Smith, captain of the Titanic on his last scheduled voyage prior to retirement, also Mr. Aidan Brogan an Irish ladies man, off to find his fortune in a new land. Mrs. Molly Brown, new southern money, eccentric and entertaining, and Mr. Henry Harris, theatrical producer who is quiet and loves to party, and his wife, socialite Mrs. Irene Harris, a retired actress from Britain.
Other suspects include Mr. Bruce Ismay, White Star Line agent with a weakness for seeking publicity. Miss Tessie Anderson, a young and inexperienced girl who wants to shake off her chaperone and have a good time. Miss Margaret Petree Tessie's aunt and chaperone, who's held a long time dream to be one of the rich and privileged.
Choose a category on your right for Titanic inspired recipes and decorating ideas. Go to "How to assemble the game" for instruction on game assembly and visit "Purchase A Game" for quick, easy download. See game reviews here.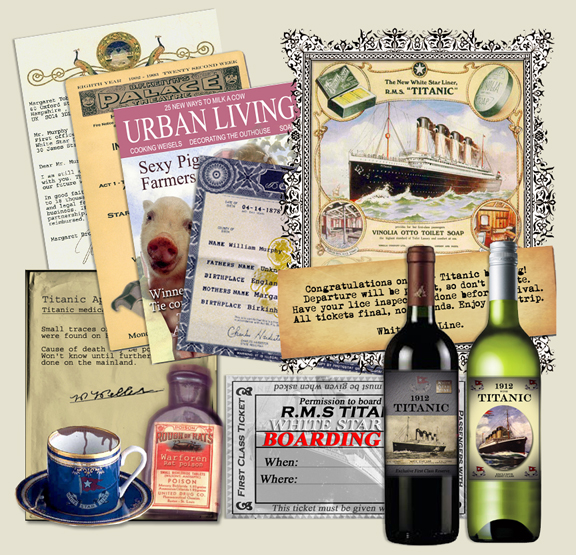 The download includes easy to print invitations, game booklets and clues, party invitations (also email versions), instructions, solution, vintage style wine labels, 10 first class recipes, menus and Titanic boarding passes. First class meal not necessary to play the game.
You will need 47 sheets of blank paper to print on for the game (booklets, clues, speech, solution) plus a stapler.

The evening exceeded our expectations. 100th Year Anniversary Party.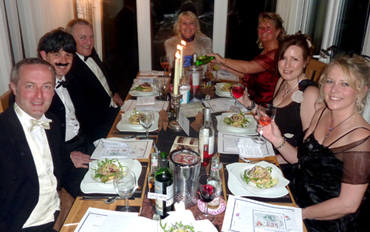 I would just like to say that we played your Titanic Murder Mystery game last night on the 100th anniversary of the Titanic, and it was brilliant, it was the first murder mystery any of us had done and we didn't know what to expect, but the evening exceeded our expectations. We laughed so much and the details you include with your games make it very impressive. We enjoyed it so much we thought we would try the Alice in Wonderland one next, and we can't wait. Best wishes and many thanks Sam, Cornwall, UK
Fun for Teenagers 16 + and adults
Game for 8 players 4 men, 4 women
4 EXTRA profiles/players (limited play) come with the game for a larger party.


INSTANT DOWNLOAD: Titanic Murder Mystery Dinner Party Game.

Game for 8 to 12 Players. 16.95$ (US).
BUY 2 GAMES AND GET THE 3RD GAME FREE

Game reviews

Reviewed by Michelle Johnston on April 20, 2015
Wow, had my party this weekend and all I can say is…Wow! I invited all my deployment bffs with their spouses and we had a blast thanks to your amazing kit. Thank so much for a memorable night.

Reviewed by Karen Crisp on February 2, 2015
Thank you for a night to remember! Every detail was covered; the menu, the music, the clues – perfect. We will be back for sure.

Reviewed by velatim July 15, 2014
My friends and I were looking for a quality Murder Mystery Dinner Party set on the Titanic, and this game hit the spot. You get everything you need in a ready for printing format. We printed the documents on cream colored paper to give it an old fashioned feel and sent them out to all of our players. Once you have your minimum of 8 players, you've got an evening of fun! The game also includes the menu and recipes from the night the Titanic sank, so you can plan your dinner around that! It also includes a list of music you can play as well. I highly recommend this game to anyone looking for a great night with friends.

Reviewed by 4smilesahead May 21, 2014
This was a winner all around! It is a download so it was processed and available immediately. It was an incredibly fun evening with friends, and everyone loved the Titanic theme. I love that extra characters are included so that more people can be invited, and my two friends who had the non-scripted characters didn't mind. I plan on buying a another one to do next year!

Reviewed by Kristi Lien January 17,
Best 30th bday EVER!

Reviewed by stadts May 1,
Hi Gary, We had a great time. Actually played it on the Titanic Anniversary 100 years later! The easy instructions helped us pull off a fun game that we will be talking about for years with our friends. I have let others know about your products tool. Much Appreciated! Lisa

Reviewed by jillybeanw April 29,
Game was easy to assemble, had great instructions, and was a lot of fun to play. Loved all of the "Detail" bonus items like wine and luggage tags to help create a great atmosphere. Thanks!

Reviewed by Terry Dean March 31,
Have not played the game yet but all the things that come with this purchase make it the bargain of the year A+++++++

Reviewed by annedk1 on May 12,
I was blown away by the amount of detail in this game! The murder mystery evening was a gift for my brothers birthday.The instructions are clear and printing layout is smart to save paper, there are even email invites for the true environmentalist. The most impressive part is the Titanic theme dinner menu. The game itself we haven't played yet, but judging from the printouts, it's a very well thought out game! Thank you.
You must have Acrobat reader installed to read and print the game files. A free version can be downloaded here: http://get.adobe.com/reader
You must have winzip to unzip the downloaded file. A free version can be found here: http://www.winzip.com/prod_down.htm
If you experience any difficulties with either the download or unzipping please email me at: libertyweb@hotmail.com