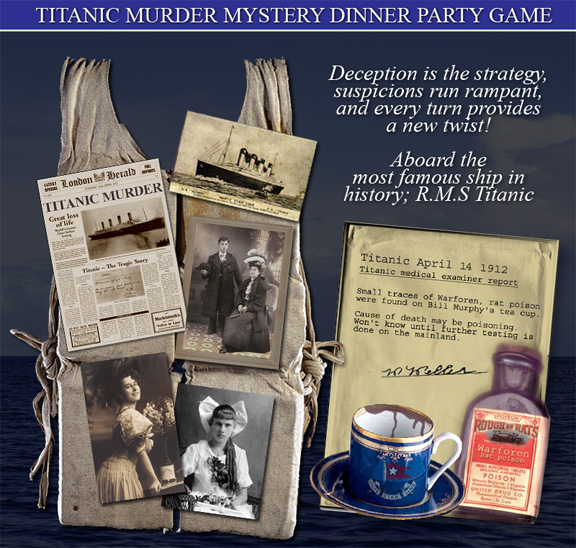 You are one of eight dinner guests (four men, four women) in this roll playing dinner party game aboard the famous RMS Titanic on the night of April 14, 1912. An invitation has been extended to you to join the captain at his table for dinner. The invitation is not without reason, you are one of eight suspects in the brutal murder of his first Officer. Can you solve the crime before the ship meets its inevitable end…and possibly change the course of history?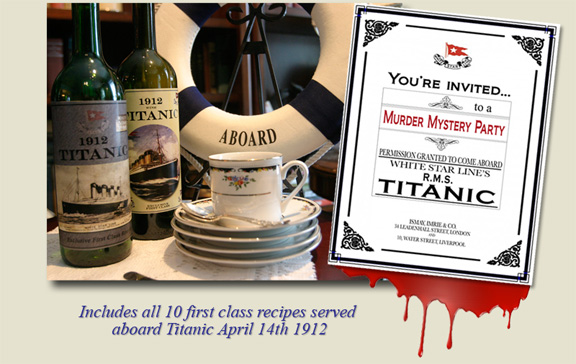 Eight Titanic passengers are under suspicion including Edward- John Smith, the Captain of the Titanic, also Mr. Aidan Brogan an English gentleman, Mr. Bruce Ismay, White Star Line agent, Mr. Henry Harris Theatrical producer and his wife, socialite Mrs. Irene Harris, Mrs. Molly Brown new money and southern, and Miss Tessie Anderson, traveling with her aunt and chaperone Miss Margaret Petree are both suspects as well.
Choose a category on your right for Titanic inspired recipes and decorating ideas. Go to "How to assemble the game" for instruction on game assembly and visit "Purchase A Game" for quick, easy download. See game reviews here.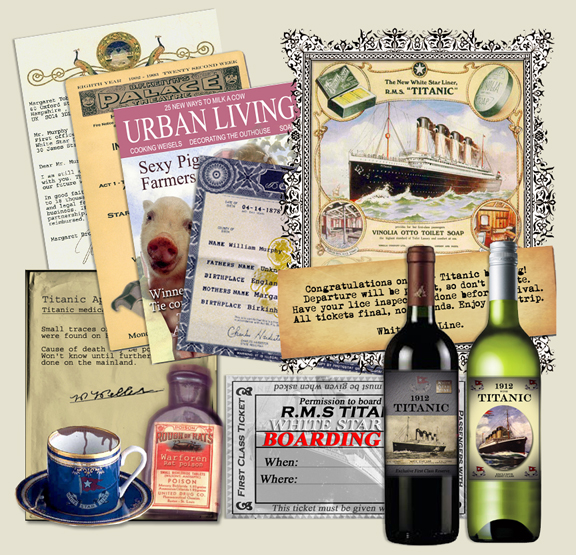 The Titanic Murder Mystery game includes easy to print invitations, game booklets and clues, party invitations (also email versions), instructions, solution, vintage style wine labels, 10 first class recipes, menus and Titanic boarding passes. First class meal not necessary to play the game.
You will need 47 sheets of blank paper to print on for the basic game (booklets, clues, speech, solution) plus a stapler.

The evening exceeded our expectations. 100th Year Anniversary Party.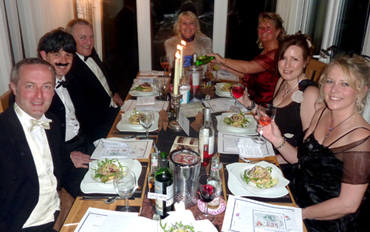 I would just like to say that we played your Titanic Murder Mystery game last night on the 100th anniversary of the Titanic, and it was brilliant, it was the first murder mystery any of us had done and we didn't know what to expect, but the evening exceeded our expectations. We laughed so much and the details you include with your games make it very impressive. We enjoyed it so much we thought we would try the Alice in Wonderland one next, and we can't wait. Best wishes and many thanks Sam, Cornwall, UK
Fun for Teenagers 16 + and adults
Game for 8 players 4 men, 4 women
EXTRA profiles (limited play) come with the game for a larger party.


INSTANT DOWNLOAD: Titanic Murder Mystery Dinner Party Game.

Game for 8 Players. 16.95$ (US).

You must have Acrobat reader installed to read and print the game files. A free version can be downloaded here: http://get.adobe.com/reader
You must have winzip to unzip the downloaded file. A free version can be found here: http://www.winzip.com/prod_down.htm
If you experience any difficulties with either the download or unzipping please email me at: libertyweb@hotmail.com