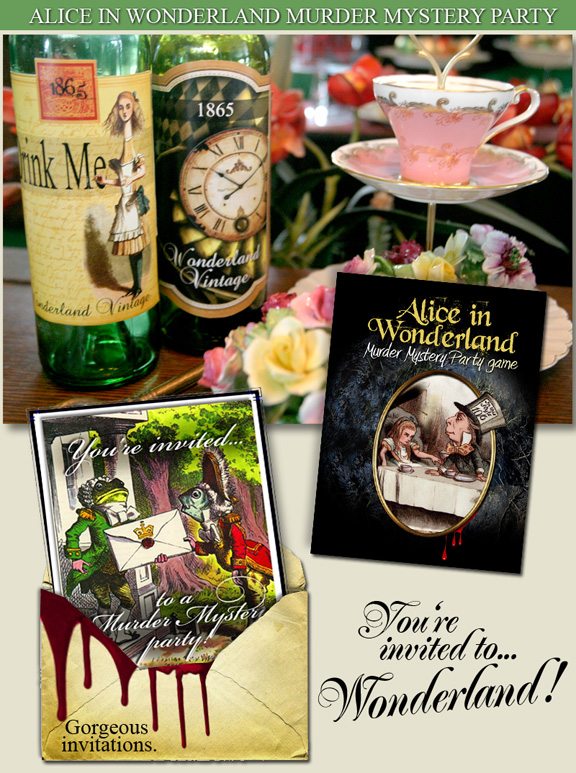 The Alice in Wonderland game is a character-based role playing murder mystery game that takes place at the Mad Hatters Tea/Dinner party. Each of the ten players/suspects use questions, answers and clues supplied within their booklets to help identify the killer involved in Tweedledee's murder.
You'll use forensic reports, personal agendas, and even blueberry logs, to uncover details to expose the killer and win the game. Enjoy this wonderfully humorous and exciting murder mystery dinner party game.
Fun for teenagers and adults. Game for 10 with 5 male players, 5 female players (a few roles can be interchangeable, or can be played by all girls, as many buyers do for young teenagers.)
1- Queen of Hearts, 2- The Mad Hatter, 3- Tweedledum, 4- The White Rabbit, 5- Housemaid Mary Ann, 6- The Duchess, 7- Cheshire Cat, 8- The Cook, 9- The Executioner, 10- Alice. PLUS up to 4 detectives can be added… The White Queen, Tiger Lily, Frog Footman, and Door-mouse (included))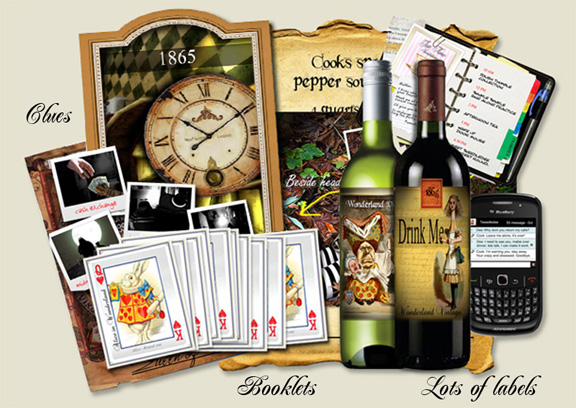 The download comes with easy to print and quick to assemble game booklets, clues, party invitations (also email versions), Wonderland inspired recipes, wine/bottle labels, full game instructions, solution, Eat me – Drink me tags, and plenty of inspiration from the game site "DIY videos. "Game for 10 players (4 detectives can be added).
You will need 56 sheets of blank paper to print on for the game (booklets, clues, speech, solution) plus a stapler.
Ages 13+ to adult
Game for 10 players, an extra 4 players can be added (detectives), up to 14 players.

Hello, I just wanted to let you know the party was a huge success! My daughter has 13 girls in her class, so we used all but one detective role. The average age was 13 so I think your minimum age (13) recommendation is spot on. I probably spent WAY more time on this than most people with good sense, LOL! My mother-in-law is incredibly creative, plus she collects tea sets, so she brought a bunch of those over and spent 3 days creating the tunnel and Mad Hatter's table. Here are a few of the great comments I received on the party: Thanks so much, Judith.
"Mother of the year award goes to you"
"Best party I've ever been to"
"This is the most fun I've ever had at a party"
"Most creative idea for a party"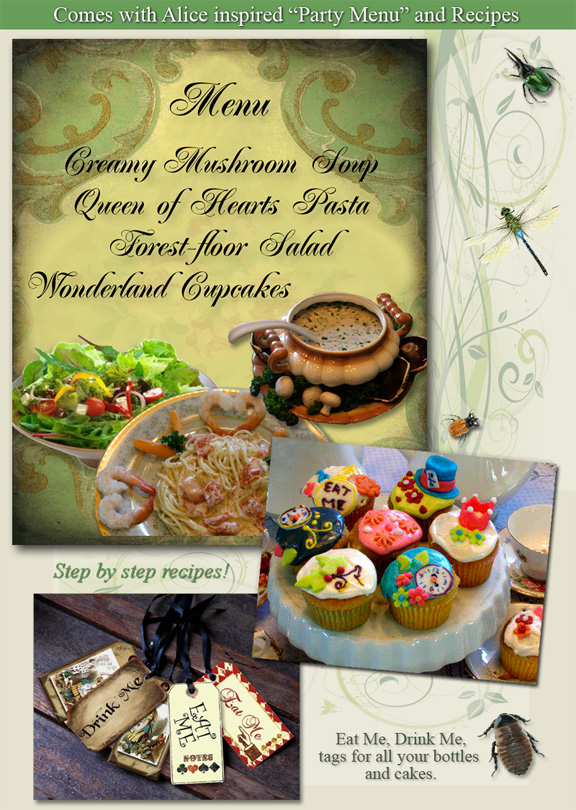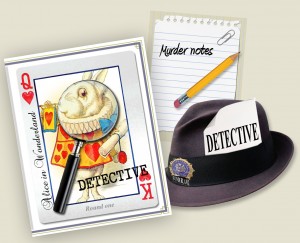 NEW* Add up to 4 extra players! Interrogate the suspects with Wonderland Detectives!
You can now make your party even bigger with Wonderland detectives. Add up to four extra players. You still need the original 10 suspects, but when friends hear about your party and want to join, you can now add them as Wonderland Detectives! (with download)


INSTANT DOWNLOAD:Alice in Wonderland Murder Mystery

party game for 10-14 players. 19.95$ (US).
BUY 2 GAMES AND GET THE 3RD GAME FREE

Game reviews

Reviewed by Erin and Bern on Apr 10, 2017
We had the best night playing this!!! I had my closest friends and their partners come along for my birthday it was fab. I also have used the pirate one for my dads 60th that too was fantastic.

Reviewed by dpreed1014 on Dec 15
This was perfect for my "un-milestone" 37th birthday party. Everything in the file was easy to use and beautifully done. The party was a huge success because this game was so good. Thank you!

Reviewed by Maren Hill on October 20
Great purchase! Fun night. We do a murder mystery dinner every year. This was by far the best! Includes everything you need for a great party! We will be coming back for another one next year.

Reviewed by Sharon on September 8
Another delightful package of goodies! I love putting the packs together and planning my parties. The images and colors are wonderful. I can see me buying the whole set of these games. Thanks.

Reviewed by Marianne Allitt on May 17
Absolutely brilliant. GARY is the most amazingly helpful seller I have come across. He was so helpful with the preparations and always replied swiftly. The files that are sent are so easy to follow. The clues and props are awesome. The game itself was brilliant. The scripts are easy to read and clear to follow…they're highly hilarious. We all laughed so much from the minute the party started until today…24 hours later and we're all still laughing. I'd highly recommend this game to everyone…definitely check out the seller's other games …I am. We've already bought our next game !

Reviewed by Sandra Milic on March 3
It was superb! Great, smart plot, amazing clues! Bravo.

Reviewed by bethanygigante on October 28,
We held the Alice in Wonderland Murder Mystery Dinner as our Halloween party this year. IT WAS AMAZING. The instructions are so clear and easy that we were able to play as the hosts without knowing who the murderer was until the end (just don't read the solution while you are printing it out!). We will be purchasing from this store again. Thank you for a great time! This game came with EVERYTHING…music, dinner menu suggestions, recipes, printable decor! Thank you.

Reviewed by jrueckert09 on November 6,
So much fun!! This was the most well put together game I've seen. Thank you for the fun times!

Reviewed by Derek Baxter on August 6,
Had our party last night, and it was a huge success. Everyone had a blast and loved the game. This is such a whimsical setting that it really allows for major creativity in the party planning as well! Loved it!

Reviewed by Rach on June 23,
Great detail, amazing graphics, and really fantastic service from these guys. Two thumbs up.

Reviewed by Jocelyn Orchard on March 26,
This Murder Mystery was worth every penny and then some. The printable download with all the art etc. was very cleaver. Loved it, was so much fun to organize and play. Thanks Jocelyn.

Reviewed by lottie maisy February 19,
Excellent ! Amazing ! We had a fantastic party thanks, the download was easy to open and the instructions were very detailed, our evening went with out a hitch and everyone had a fabulous time.

Reviewed by alicephillips573 on February 18,
Very quick download with so many different aspects that all helped to make the dinner party work. Very detailed, and a brilliant experience – even worked well when those involved had a few too many! Would definitely recommend.

Reviewed by quig1ley September 29,
We threw a fabulous birthday party for a friend with this. Just perfect and loads of fun.

Reviewed by Rachel December 19,
This feedback is late but the party was awesome and everyone had a blast! It was my first time hosting a Murder Mystery Party and the clear instructions and extras on your website really helped. Thanks for helping make such a memorable night.

Reviewed by Rufus Ballaster April 4,
We were delighted to find PrintableMysteryGames' Alice in Wonderland themed party available as a download – as my daughter's 16th birthday party was imminent and she had decided that was absolutely what she wanted to have us host! We paid, got an email confirmation and within minutes had the email with the download link – it all came over as .pdf and opened up beautifully. The instructions were clear and the product professional: the 10 guests all enjoyed themselves even [better not say whodunnit] the murderer… Great fun was had with the dialogue and the prompts and the printed clues to hand around – we would recommend this to anybody. Well Done PrintableMysteryGames!

Reviewed byjrueckert09 on November 6,
So much fun!! This was the most well put together game I've seen. Thank you for the fun times!
You must have a .pdf reader installed to read and print the game files. A free version can be downloaded here: free-pdf-reader
You must have winzip to unzip the downloaded file. A free version can be found here: http://www.winzip.com/prod_down.htm
If you experience any difficulties with either the download or unzipping please email me at: libertyweb@hotmail.com