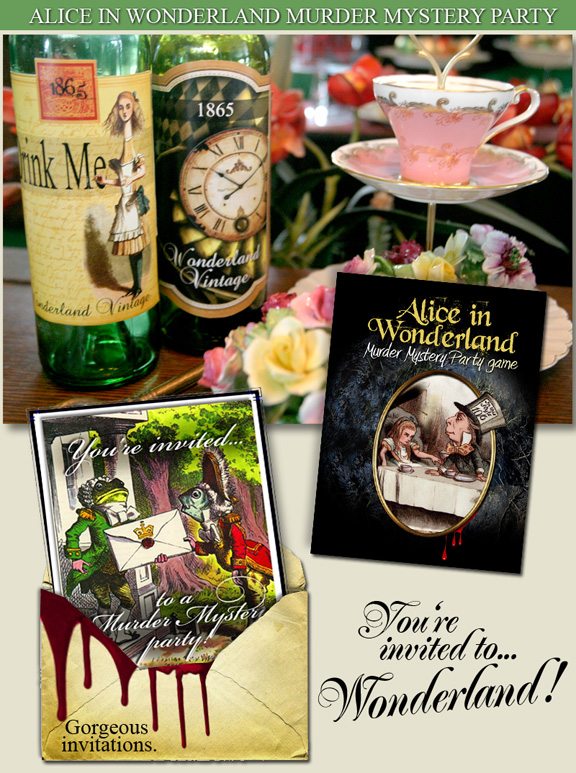 You are one of 10 suspects accused of the crime. Using forensic reports, personal agendas, and even blueberry logs, can you uncover enough details to expose the killer and win the game? Enjoy this wonderfully humorous and exciting murder mystery dinner party game.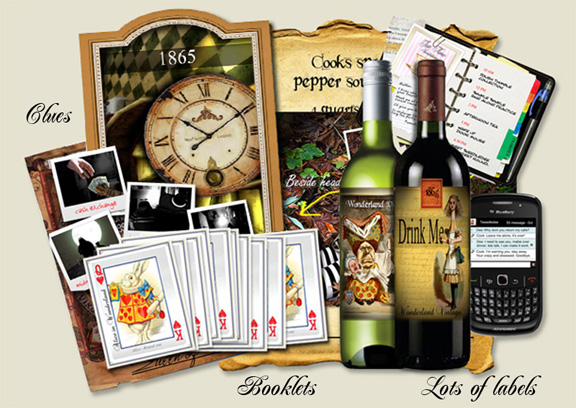 The download comes with easy to print and quick to assemble game booklets, clues, party invitations (also email versions), Wonderland inspired recipes, wine/bottle labels, full game instructions, solution, Eat me – Drink me tags, and plenty of inspiration from the game site "DIY videos. "Game for 10 players (4 detectives can be added).
You will need 56 sheets of blank paper to print on for the basic game (booklets, clues, speech, solution) plus a stapler.
AGES 13 TO ADULT
Game for 10 players
Can add an extra 4 players, up to 14

Hello, I just wanted to let you know the party was a huge success! My daughter has 13 girls in her class, so we used all but one detective role. The average age was 13 so I think your minimum age (13) recommendation is spot on. I probably spent WAY more time on this than most people with good sense, LOL! My mother-in-law is incredibly creative, plus she collects tea sets, so she brought a bunch of those over and spent 3 days creating the tunnel and Mad Hatter's table. Thanks so much, Judith.
Here are a few of the great comments I received on the party:
"Mother of the year award goes to you"
"Best party I've ever been to"
"This is the most fun I've ever had at a party"
"Most creative idea for a party"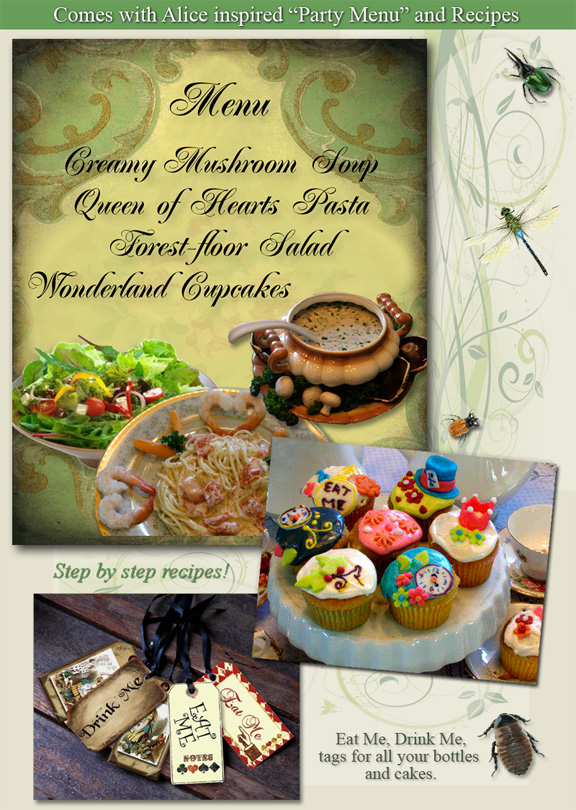 The Alice in Wonderland game is a character based roll playing game that takes place at the Mad Hatters Tea/Dinner party. Each of the ten players uses questions, answers and clues supplied within their booklets to help identify the killer involved in Tweedledee's murder.
Fun for teenagers and adults. Game for 10 with 5 male players, 5 female players (a few roles can be interchangeable, or can be played by all girls, as many buyers do for young teenagers.) 1- Queen of Hearts, 2- The Mad Hatter, 3- Tweedledum, 4- The White Rabbit, 5- Housemaid Mary Ann, 6- The Duchess, 7- Cheshire Cat, 8- The Cook, 9- The Executioner, 10- Alice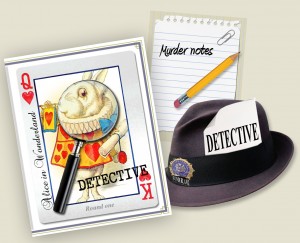 NEW* Add up to 4 extra players! Interrogate the suspects with Wonderland Detectives!
You can now make your party even bigger with Wonderland detectives. Add up to four extra players. You still need the original 10 suspects, but when friends hear about your party and want to join, you can now add them as Wonderland Detectives! (with download)


INSTANT DOWNLOAD:Alice in Wonderland Murder Mystery Party Game.

Game for 10 players. 16.95$ (US).
(Can add an extra 4, up to 14 players)
(Fun for Teenagers 13+ to adults.)

You must have Acrobat reader installed to read and print the game files. A free version can be downloaded here: http://get.adobe.com/reader
You must have winzip to unzip the downloaded file. A free version can be found here: http://www.winzip.com/prod_down.htm
If you experience any difficulties with either the download or unzipping please email me at: libertyweb@hotmail.com