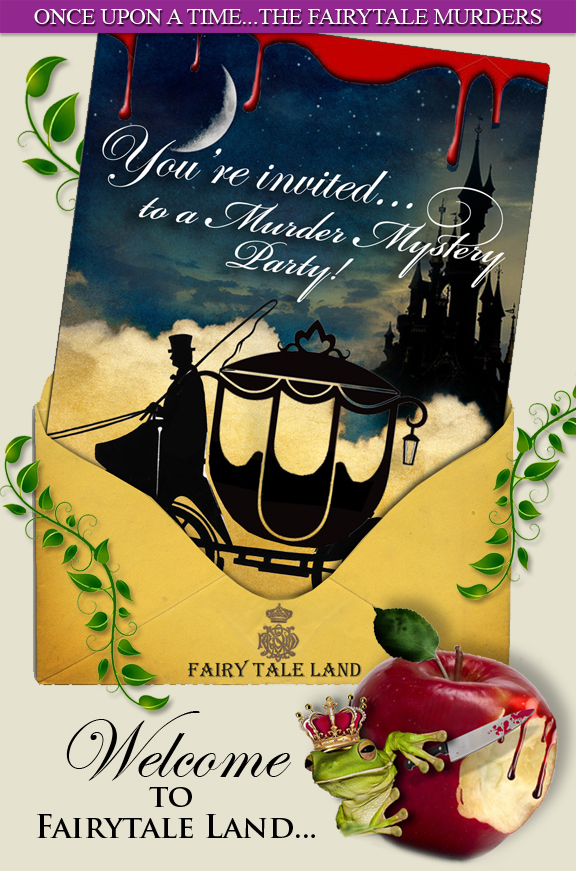 The Fairy Tale Murder Mystery Game is a character-based role-playing game that takes place at a City Council Meeting in Fairy Tale Land. Each of the ten players uses questions, answers and clues supplied within their booklets to help identify the killer behind the mysterious deaths of both Pinocchio and Grumpy.
Ages 13+ to adult
Game for 10 Players, 5 male, 5 female (plus up to 4 detectives can be added)
Snow White, Prince Charming, Red Ridding Hood, Rumplestiltskin,
Big Bad Wolf, Witch, Captain Hook, Tinker Bell, Evil Queen, and Jack.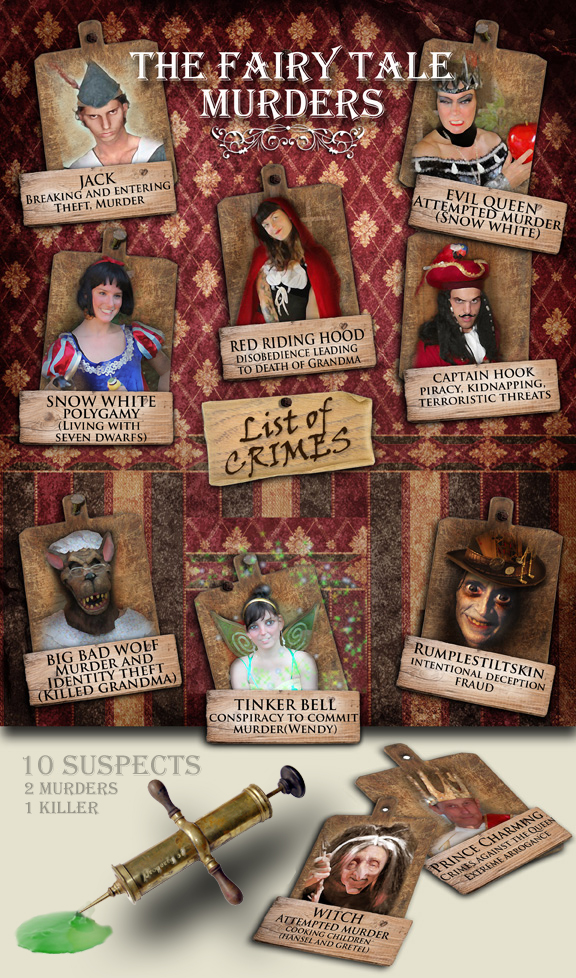 Due to the mysterious deaths of Grumpy and Pinocchio, tourism in Fairytale land has reached an all-time low.
Book sales of all our beloved fairy tales have dropped off forcing many in the retail industry to request aid. The town economy has been so slow that the Stilskin Corporation has filed for bankruptcy due to the city council's recent decision to cancel the restoration of Snow White's castle.
An Emergency council meeting has been called!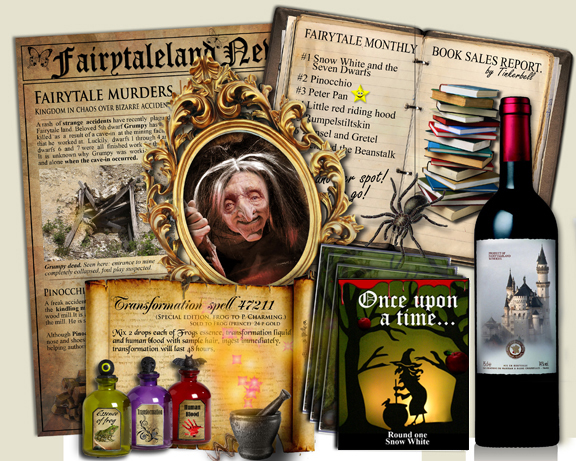 The download comes with easy to print and quick to assemble game booklets, clues, party invitations (also email versions), Fairytale inspired recipes, wine/bottle labels, full game instructions, solution, and plenty of inspiration from the game site DIY videos.
You will need 57 sheets of blank paper to print on for
the game (booklets, clues, speech, solution) plus a stapler.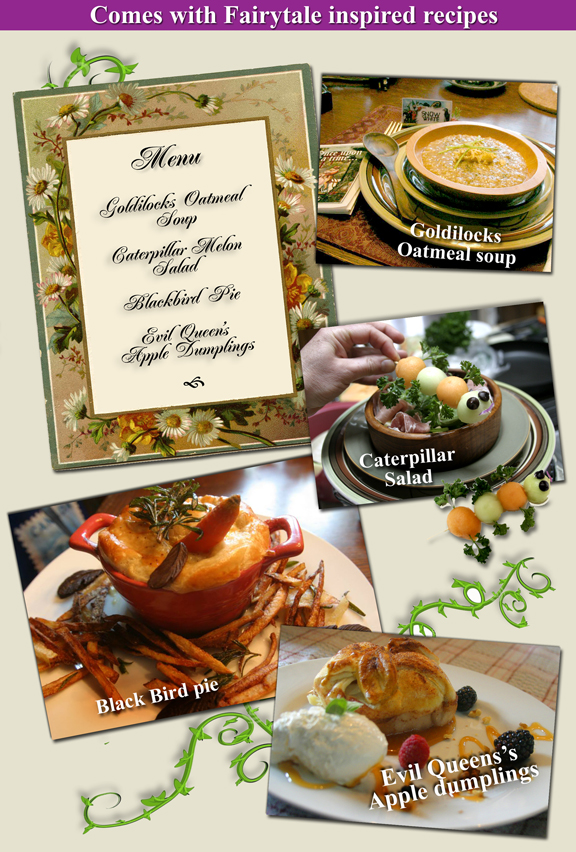 AGES 13 TO ADULT
Game for 10 players (plus up to 4 character detectives can be added…)


INSTANT DOWNLOAD: Fairytale Murder Mystery Game.

Game for 10 players. 19.95$ (US).
BUY 2 GAMES AND GET THE 3RD GAME FREE

Game reviews

Reviewed by Twee Sosa on Nov 3rd, 2017
Where do I begin!? I have been throwing murder mystery parties for 15 years: they have all been fun but yours was, hands down, THE BEST. It had so many freebies, the least confusing to piece together… and it was well-written & hilarious which was not only entertaining, but the clever writing also helped my friends and family stay in character! I cannot say enough great things about your mystery parties and glad I took a chance on your fairytale game – I am hooked!

Reviewed by Christy on Jul 4, 2017
We had a blast! Excellent! The game was lovely and easy to assemble. The seller answered my questions before I'd even purchased the game. We used this at a bachelorette party, and I bought silly props from Dollar Tree. The interactions and conclusion were witty and we laughed the whole time. The bride was extremely pleased.


Reviewed by elizjoyhaines on Apr 27, 2017
So much fun! Loved how straight forward it was. Very easy to follow! The characters were great! Thanks!

Reviewed by wrathofnewman on Apr 18, 2017
My 12-year-old played this game with 10 of her friends for a party. It was perfect, and I had a blast. Thank you!

Reviewed by Tiffany Wise on Jan 31, 2017
Very well written, and easy to follow. So much extra stuff provided too!

Reviewed by feliciastarr11 on Sep 20
I cannot say enough nice things about this product and the seller. My murder mystery party was such a success. Everyone had a lot of fun and we laughed so hard! Everything is straight forward and it made it super easy to host the party. Furthermore, the seller was super helpful with questions and concerns.

Reviewed by wcktaw on Dec 7
Incredible! Better and more organized than I could ever imagine. A great addition to our Disney trip!!

Reviewed by Robyn Baker on Nov 13
Last night was GREAT! I can't wait to do another one! Oh man! The laughter! My face hurts and the dog is exhausted from all of the excitement. I used my Cricut cutter and some glass etching solution to make each person a glass with their character name on it that they got to take home. So awesome!

Reviewed by Shirla on Aug 12, 2016
This is the third game we have bought from "Printable Mystery Games" and they are amazing. Each character role is so humorous you will die laughing all night long. The download is simple to use and comes with everything you need to make your party a success. I will be purchasing more ❤

Reviewed by Tina Carlson on Jun 16
All of my guests really got into dressing up as their characters and had a great time! Gary was very responsive to questions and the instructions were clear and easy to follow. I used the recipes provided with the game and they were a big hit. This game is great for murder mystery beginners and aficionados.

Reviewed by bethanygigante on October 20
We loved this game! We will buy from this seller again in the future.

Reviewed by Jane on September 8
Excellent product. Super quick delivery and constant communication. I would not hesitate to recommend this product or the seller!

Reviewed by Brittany on October 28
I had my party on Saturday night. It was a huge success and a great way to celebrate Halloween. All of my guests loved the recipes and asked me how to make the "Oatmeal Soup", especially. I had some of the guests help by bringing the salad and dessert courses. All of the graphics printed beautifully. Thank you!

Reviewed by Cynthia on July 18
The game is a BLAST! My guests had a wonderful time! The crowd at our party enjoyed improvising with the game. The seller was wonderful, helpful and very friendly! Highly recommend!

Reviewed by jamiddl on August 10
The party files were emailed immediately! Gary was also super willing to help and answer questions along the way. He gives lots of good suggestions for pacing and decorating which really take the guess work out of planning the party. Everyone had a great time! I was surprised how excited people were to dress up! The cocktail recipes are super yummy and I loved the soup and salad too! I even got to play along with everyone else even with being the hostess. It was so much fun!

Reviewed by david on June 25
This has been an extremely enjoyable experience. From the welcoming emails to the downloads: booklets, clues, invitations, recipes, place cards, menu cards, bottle labels, awards…even a playlist of music and an audio newsreel, all were fantastic. The instructions to put the game together were simple and easy to follow. As were the recipes. The game play was easy to understand and follow. The question answer format created a game flow that was seamless and entertaining. Everyone who participated had a blast. We are all still talking about the evening and are looking forward to doing another murder mystery soon. This game was such value for money and I would highly recommend it to anyone.

Reviewed by Dani Hoots on August 26
We had a blast! The dialogue and characters are great, only one person figured out who the killer was but it all made sense. We did have to gender-bend one character, Red Riding Hood, which was very funny. I loved the evil laugh contest and having Snow White sing everything, it was a lot of fun. Thanks, Dani Hoots

Reviewed by webaridon on November 14
My 14 year old had a Halloween party with this mystery. The kids had a great time. It was easy to understand and the files were excellent. We are thinking of making it an annual event. We'll be back for more mysteries!
You must have a .pdf reader installed to read and print the game files. A free version can be downloaded here: free-pdf-reader
You must have winzip to unzip the downloaded file. A free version can be found here: http://www.winzip.com/prod_down.htm
If you experience any difficulties with either the download or unzipping please email me at: libertyweb@hotmail.com