A VICTORIAN MURDER MYSTERY, WHAT COULD BE BETTER!

This is a wonderfully dark / humorous role-playing dinner party game. Play as one of Charles Dickens most beloved characters as you unravel the mysterious murder at Sadis Manor all the while proclaiming your innocence! A Christmas Eve like no other, as you discover the horrors of each of the dinner guests, and their alibis. Along with a few morbid Christmas Carols, this is one evening you won't soon forget! Game for 10 players. ( 5 Male players and 5 female players )


Play as (from left in the picture above):
Lady Dedlock: Aristocratic, icy cold, with a deadly secret. "Bleak House"
Miss Havisham (front): Abandoned at the Altar. "Great Expectations"
Mr.Dorrit: A rich snob with a past. "Little Dorrit"
Fagin: A vile hideous man with a trailing of boys. "Oliver Twist"
Estella: Miss Havisham's adopted daughter, sociopath. "Great Expectations"
Ebenezer Scrooge: Cold-hearted miser. "A Christmas Carol"
Pip: Miss Havisham's angry protégé. "Great Expectations"
Vincent Crummles: Theater troupe leader, nasty habits."Nicholas Nickleby"
Little Nell: A sweet girl, with murderous tendencies. "Old Curiosity Shop"
Sarah Gamp: Alcoholic midwife, accidents will happen. "Martin Chuzzlewit"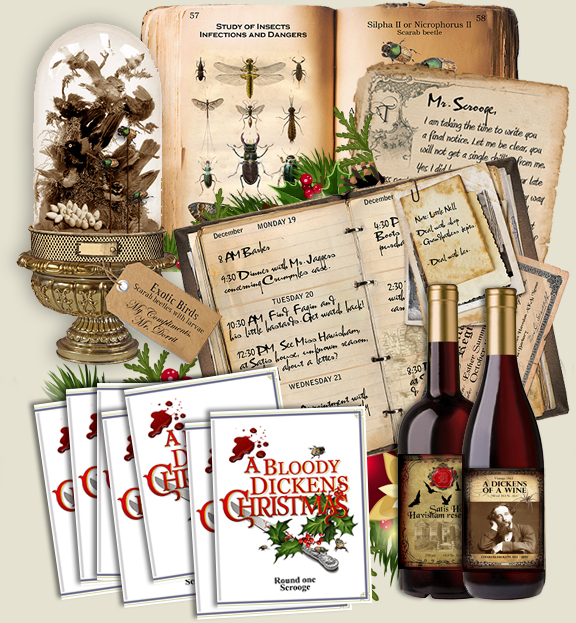 The download comes with easy to print and fold game booklets and clues, Miss Havisham's welcome speech, party invitations (also email versions) with character backgrounds and costume suggestions, Dickens inspired recipes, period wine labels, full game instructions, 4 dark Christmas carols to sing through-out the evening and the game solution. Game for 10 players, 5 male, 5 female.

You will need 65 sheets of blank paper to print on for the game's booklets, clues, speech, and solution, and 20 sheets for the Bloody Christmas Carol song books.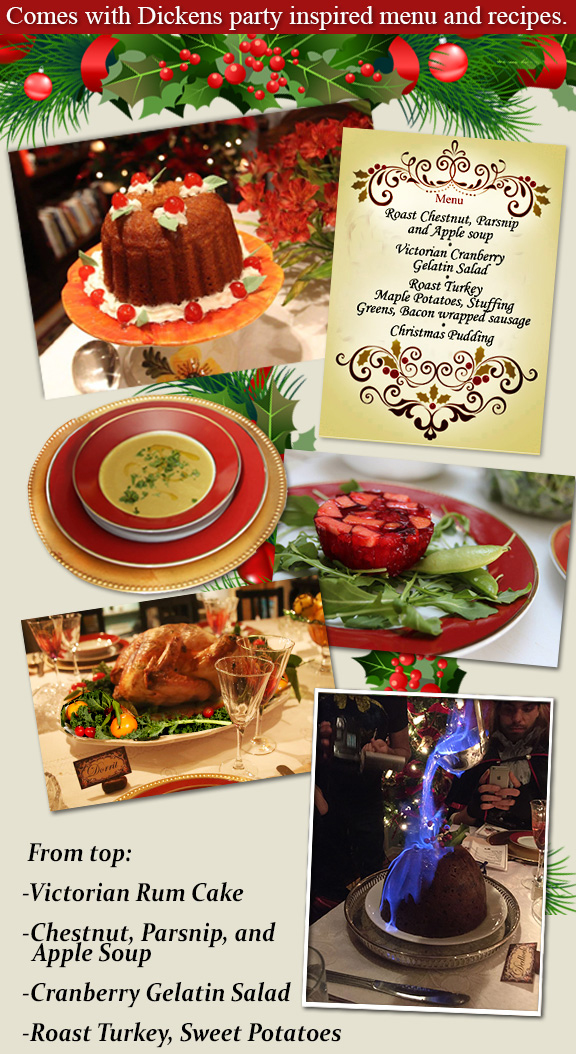 Game Story:
It has been 23 years since Miss Havisham was left at the altar by her
fiancé (Dickens Great Expectations).
Her Manson is now in ruins and her days are spent in a haze of madness. She continues to wear her wedding dress. But something has occurred that has summoned a moment of clarity. A skeleton has been dug up on the property. A mutilated, murdered corpse, that at least for Miss Havisham must be her lost fiancé. Is it possible that after all these years she wasn't in fact jilted? But who committed this atrocity?
A plan is set forth, as the very guests that were present on her wedding day 23 years ago receive invitations to spend Christmas Eve at the Satis Manor, and within the Christmas merriment a murderer will be uncovered.
Join your favorite Dickens characters from Great Expectations, A Christmas Carol, Bleak House, The Old Curiosity Shop and Oliver Twist as the truth is revealed and the bloodiest of murders is revealed (and sing a few dark Christmas carols in the process).
Your quest: Who MURDERED the body in the garden, and why?



INSTANT DOWNLOAD: Dickens Murder Mystery Game.

Game for 10 players. 19.95$ (US).
BUY 2 GAMES AND GET THE 3RD GAME FREE