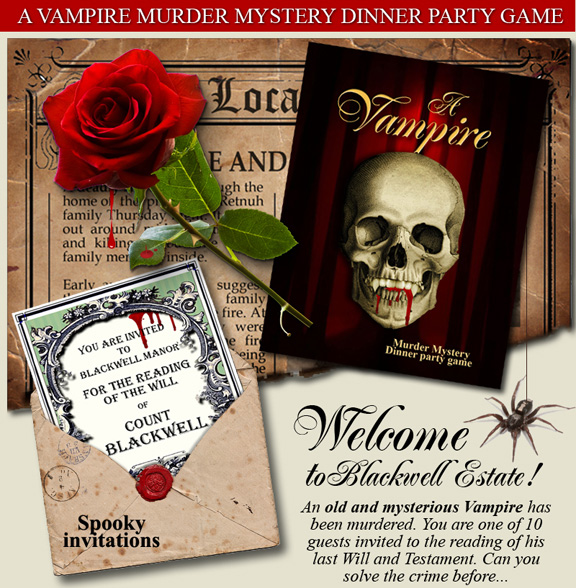 This is a wonderfully dark / humorous role-playing dinner party game. Play as one of five Blackwell Vampire siblings who turn on each other throughout the evening, or as one of five humans that are caught in the middle of a dangerous family feud. Either way, secrets will be unearthed, lives will be threatened, and horrors revealed.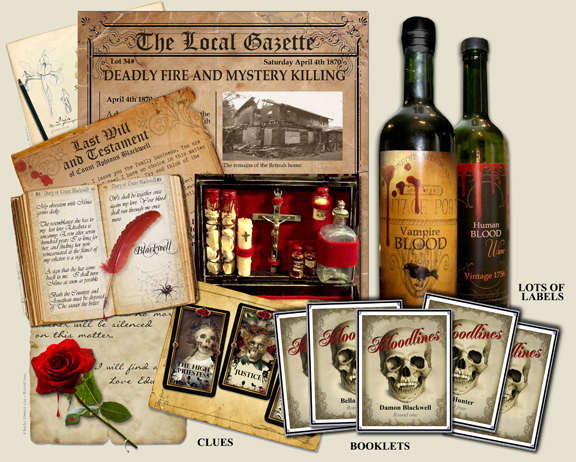 The download comes with easy to print and fold game booklets and clues, Count Blackwell's Last Will and Testament, party invitations (also email versions) with character backgrounds and costume suggestions, vampire inspired recipes, period wine labels, full game instructions, and game solution. Game for 10 players, 5 Vampires, 5 Humans.

You will need 55 sheets of blank paper to print on for the game (booklets, clues, speech, solution) plus a stapler.

Game Story:
The Blackwell family, friends and associates of the late Count Blackwell gather for dinner and the reading of his Last Will and Testament. The Count's mysterious death occurred just the night before, when his remains were discovered in the library by his wife Elenor (Countess) around 1 AM. He had been reduced to a puddle of blood, ash and sinew.
10 Players:
1- The Countess, vampire (The Count's wife)
2- Damon, vampire (eldest son, handsome, greedy, arrogant),
3- Edward, vampire (second son, dreamer, artistic).
4- Lilith, vampire (first daughter, spoiled, sexy),
5- Violet, vampire (second daughter, new age, eccentric).
6- Jonathan Harker, human (Solicitor)
7- Mina Murray, human (Jonathan Harker's fiancé)
8- Charles Hunter, human (Estate gardener)
9- Bella, human (Charles Hunter's daughter.)
10- Marcus, human (a dancer from the local nightclub)
Your quest: Who MURDERED Count Blackwell?

Fun for Teenagers 16+ and adults
Game for 10 players (5 men, 5 women)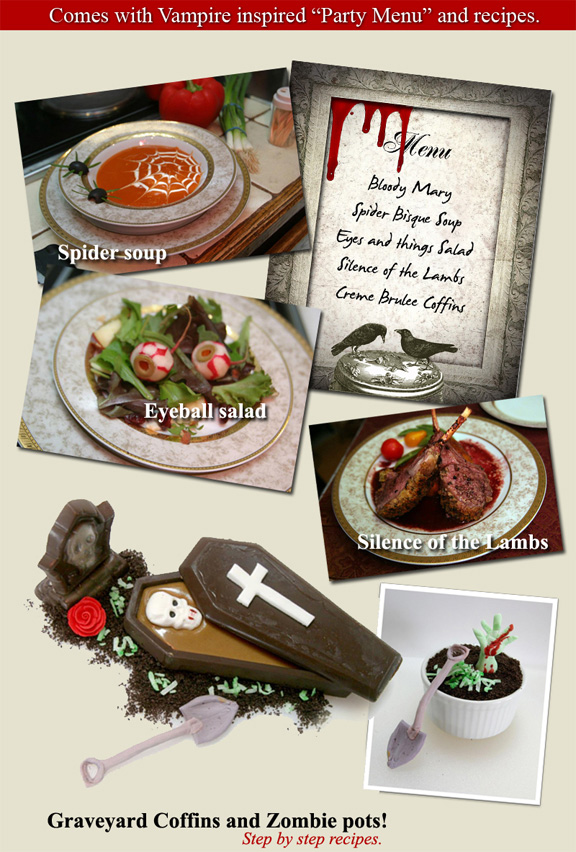 INSTANT DOWNLOAD: Vampire Murder Mystery Dinner Party Game.

Game for 10 players. 19.95$ (US).
BUY 2 GAMES AND GET THE 3RD GAME FREE

Game reviews

Reviewed Gert Grobler on Jan 17, 2017,
We had so much fun playing this game. All the printables included really provided a lot of atmosphere. The ending was clever.

Reviewed by Kelly Kivisels on January 14th, 2017,
I love a good murder mystery. BEST price out there and a comprehensive package to work with. VERY HAPPY.

Reviewed by Athena on March 31,
So fun, everything was amazing.

Reviewed by Melanie on September 22,
This is my first purchase from Murdery Mystery Games but my 3rd mystery party to host – This game is by far the best written and has all the wonderful details that help make the party a success! I have enjoyed planning the party. The invitations are very detailed with character sheets plus a family history — our guests were all very excited! I appreciate the amount of work that went into developing this game and every detail helps create excitement for a wonderfully fun evening.

Reviewed by zarita escalante on September 16,
I love the Vampire Party Murder Mystery dinner game. The graphics are beautiful. I printed all the materials on ivory color paper to give an old look. Everything looks fantastic. Downloading the files was easy. Being a creative person myself I can appreciate the quality. This game will be a great addition to my annual Halloween party.

Reviewed by LisaJo Hienz on August 12,
Easy download and everything I needed for my Vampire Murder Mystery Dinner, even menu suggestions and recipes!!!

Reviewed by RosyAmy on September 25,
We are very impressed! A lot of time, effort, and creativity went into making this murder mystery game. Can't wait to try it out for Halloween. We wanted to do something different this year instead of the standard costume party. I think our friends will be pleasantly surprised! Thank you so much!!

Reviewed by RDJMaRaDaH on November 11,
Amazing. Everything as described. Thank you.

Reviewed by N Playford on June 25,
This looks very good, have yet to use or print it but it all looks like it will be a great night.
You must have a .pdf reader installed to read and print the game files. A free version can be downloaded here: free-pdf-reader
You must have winzip to unzip the downloaded file. A free version can be found here: http://www.winzip.com/prod_down.htm
If you experience any difficulties with either the download or unzipping please email me at: libertyweb@hotmail.com