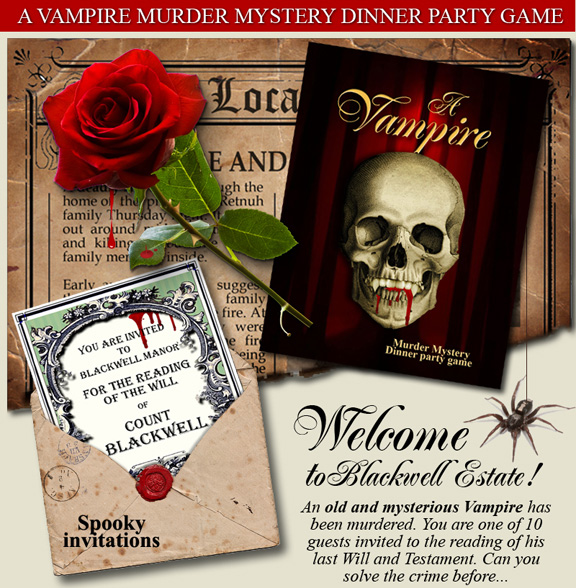 This is a wonderfully dark / humorous roll playing dinner party game. Play as one of five Blackwell Vampire siblings who turn on each other throughout the evening, or as one of five humans that are caught in the middle of a dangerous family feud. Either way, secrets will be unearthed, lives will be threatened, and horrors revealed.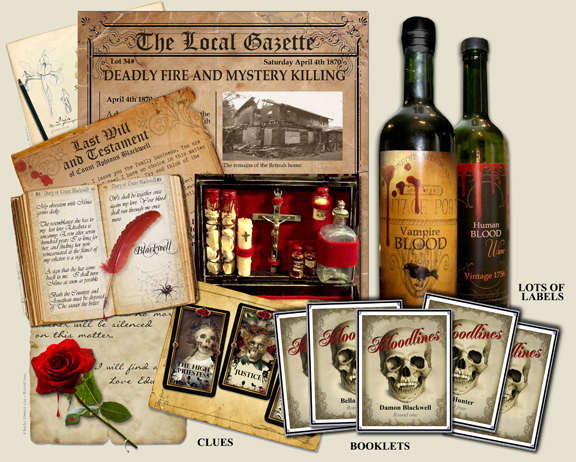 The download comes with easy to print game booklets and clues, Count Blackwell's Last Will and Testament, party invitations (also email versions) with character backgrounds and costume suggestions, vampire inspired recipes, period wine labels, full game instructions, and game solution. Game for 10 players, 5 Vampires, 5 Humans.


Game Story:
The Blackwell family, friends and associates of the late Count Blackwell gather for the reading of his Last Will and Testament. The Count's mysterious death occurred just the night before, when his remains were discovered in the library by his wife Elenor (Countess) around 1 AM. He had been reduced to a puddle of blood, ash and sinew.
The Count was the Patriarch of a family of five, all of them Vampires. Along with his wife the Countess, his four offspring are; Damon (eldest son, handsome, greedy, arrogant), Edward (second son, dreamer, artistic). Lilith (first daughter, spoiled, sexy), and Violet (second daughter, new age, eccentric). Other guests this evening for the reading are Jonathan Harker and Mina Murray (the Counts solicitor, and his fiancé) who have been staying at the mansion for a number of weeks. The families gardener, Charles Hunter and his daughter Bella. Lilith's current human boyfriend Marcus (a dancer from the local nightclub) is also present.
Your quest: Who MURDERED Count Blackwell?

Fun for Teenagers 16+ and adults
Game for 10 players, (5 men, 5 women)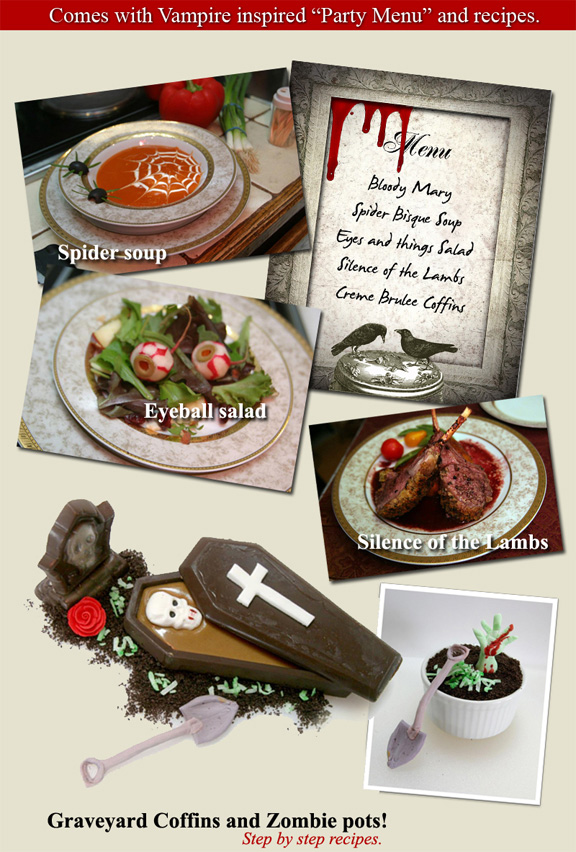 Episode 1 – OUR TEST PARTY!
When you host your own Vampire Murder Mystery dinner party, your guests will arrive in a costume that they have put together, which is part of the fun of the evening. However, whenever I " test run " one of my games, I like to supply my guests with a costume, as you will see in the following video. Murder mystery episode one, A Vampire Murder Mystery evening. (These are my friends, not professional actors… just like you and me!)


INSTANT DOWNLOAD: Vampire Murder Mystery Dinner Party Game.

Game for 10 players. 16.95$ (US).
Game for 10 players, (5 men, 5 women)
(Fun for Teenagers 16+ and adults)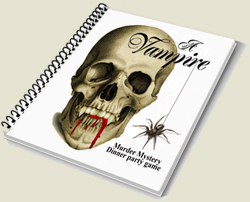 Click here to view a sample PDF file with additional information here!